See Why Obaseki Renamed Adams Oshiomole Crescent To Bukola Saraki Boulevard In Auchi, Edo State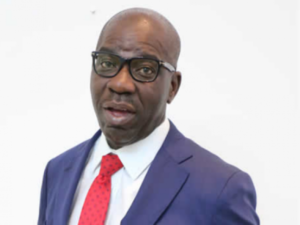 Godwin Obaseki has recently officially defected to the People's Democratic Party to pursue his Governorship ambition in Edo State. The battle has begun as to who occupies the Edo Government House for the next four years.
 Obaseki has taken his move to ensure that his predecessor and the suspended National Chairman of the ruling All Progressive Congress, Comrade Adams Oshiomhmole is dealt with politically in Edo State. His first action after he officially moved to the PDP was to rename Adams Oshiomhmole Crescent to Bukola Saraki Boulevard Auchi
This move is to honour Bukola Saraki who risked his political career in 2019 and battled the likes of Oshiomhole, Tinubu, Lai Mohammed to ensure that the People's Democratic Party emerged victorious in 2019 elections. However, he got his fingers burnt. PDP lost the Presidency, Saraki lost his bid to return to the Senate and also could not win the Governorship election in Kwara for PDP. But here are possible reasons Obaseki Renamed Adams Oshiomhmole Crescent to Bukola Saraki Boulevard Auchi.
 Adams Oshiomhmole said alot of things about Saraki during the 2019 elections. I can vividly remember him saying that Saraki left APC because he didn't get juicy offers in Buhari's government. During APC's 2019 campaign in Kwara, he told Kwara people that it was time to do away with Bukola Saraki and his political dynasty. Also, Oshiomhole was against the emergence of Saraki as the then Senate President. He planned many times with the APC caucus to impeach him but Saraki was always on top of his game.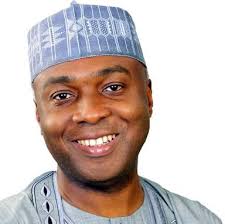 Bukola Saraki is a smart politician who knows how to win the minds of supporters and voters through his mild and gentle statements. Obaseki needs that kind of person in his team to endear himself to a lot of Edo people whom Oshiomhole has continuously told that the PDP in Edo did nothing for the people.
As Obaseki has defected to the PDP, alot of his supporters in APC will move with him to join PDP members who are already on ground in Edo. There may be few disagreements here and there as to how to mobilize voters during campaigns. Saraki is good at that. He was able to unite APC members and PDP members when he defected to PDP in 2019 with his supporters.
Adams Oshiomhmole as of now is a political enemy of Obaseki. Renaming a street named after him to Saraki will go a long way to tell him that Obaseki is out to clip his wings as far as the Edo election is concerned. With this he has already sent a clear message to Oshiomhole that he has cut ties with him politically.
---
Reader's opinions
---