Nigerians In Diaspora Have Lost A Rare Gem, Otunba Dr Dapo Williams
The news spread like fire on the 8th of August 2020 within Nigerian community in United kingdom when a prominent Philanthropist  Nigerian UK based  Dr Otunba Dapo Williams passed way.
The late  philanthropist was described by many Nigerians in Diaspora as a man of honor and integrity. It's a pain in the heart of many when the news gets to various groups.
Abike Ade communication took to her Facebook to announced the death.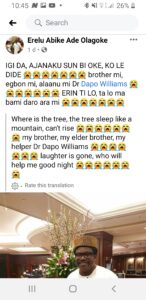 Mr Adebayo (Mr Noble) expressed his experience with Dr Dapo he said  could he  remember vividly the direct contact he had with him  many years ago.  was nominated for an award in Derby. On my way going for the award ceremony, we were  on the same train with him but I don't know he was also among  of the nominee of the award but on different category. I approach him and I told him i am from Noble people international magazine and he was happy to meet us. I was with the studio manager on the trip. When we were interviewing i found that we are going for the same occasion. We really enjoyed his generosity and cares that day. You know what I meant that  our brown enveloped ( Journalist gift ) was heavy after the award when he was leaving the event. This is just one of his million good work.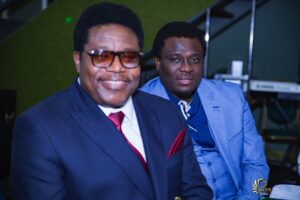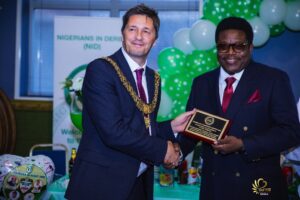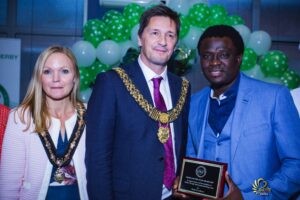 Madam Ajibike when she saw my post on Facebook about the death of Otunba Dapo Williams, she put a call through me to confirm the authenticity of the post on social media.
She continued to informed me how she knew  Dr Williams  It happened many years when she (Ajibike ) was planning for her daughter wedding. The proposed chairman of the wedding is one of the Ex Deputy Governor of one of the  Nigeria state told me that he will indisposed during the wedding time and the notice is just within one week before the wedding.
Madam Ajibike was left with no option than look for another person who is of high profile and with integrity because the wedding is one of the socialite wedding then. She use to see the Dr Dapo on on Television and social media, so she summoned courage and put a call through to him, she told him the request and he did not refused the offer to chair their wedding without know her from nowhere. When he came for the wedding he spent money and useful time with everyone there. The show how humble the great man worked.
from AYAN D FIRST Facebook Page Mr Culture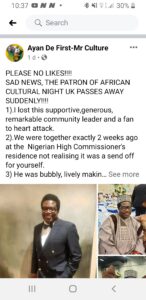 From Councillor Funmi Ademiluyi Facebook page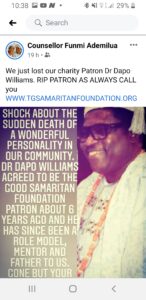 Dr Dapo Williams will missed for his great work.
---
Reader's opinions
---