Former Military President, Gen Abdulsalam Returns Back To Nigeria Hale And Hearty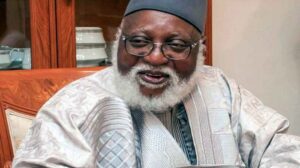 Former President Abdulsalam Abubarkar was accompanied by his wife and former Chief Judge of Niger state, Justice Fati Lami Abubakar, his daughter and wife of the state Governor, Dr. Amina Sani Bello and other family members.
Our correspondent however could not ascertain the state of health of the former President, General Abdulsalam Abubarkar as at the time of filing this report against his rumoured deteriorating health conditions.
A source from his hilltop residence however told our correspondent, "General is looking hale and hearty. He was full of smiles and in good spirit as he exchanged pleasantries with family members, friends and well wishers".
The former Nigeria's Military leader was shortly after driven straight to his uphill mansion from the airport at about 9:58 am after a brief exchange of pleasantries with few family members who were on hand to welcome him back home.
Former President Abdulsalam Abubarkar it would be recalled left the shores of Nigeria for London sometime in June for medical treatment as his failing health conditions became subject of discourse in the state
Security build up at the Minna Airport started Friday evening when the entire airport was condoned by security operatives in anticipation to his arrival but which was postponed till yesterday (Saturday) morning.
The unusual presence of strange looking armed men along the Airport road sent jitters to spines of the host communities and many of them, especially the farmers were prevented from accessing the facility passing through to their farmlands.
As early 7:00 am Saturday morning, security operatives took strategic positions at the Minna Airport and this time ordered everybody except for those linked to facilitating the arrival of the former President out of the facility.
All the vehicles parked within the facility were ordered to be removed except for those belonging to close family members, nobody, including journalists was allowed into the Airport as they (security) told everybody politely to steer clear.
"Nobody is allowed to go in now, please", was the response the security personnel on Saturday morning's special duty to visitors, airport officials who had reported early for work and passersby around Maikunkele vicinity before the arrival of former President, Abdulsalam.
As the facility witnessed the unusually emptiness, an Air Force plane with registration number, 5 NFGV conveying former President Abdulsalam Abubarkar and 12 other occupants soon appeared landing at the Airport at about 9:40am.
Heavy security presence greeted early callers at Minna International Airport Saturday morning as heavily armed security personnel detailed to cordon off the facility prior to the return of former Military President, General Abdulsalam Abubakar, turned them back 'on the orders from above'.
The former Military President, whose worsening health condition has been of grave concerns to the state government for close to three month of medical trip abroad, landed at the Minna Airport .
---
Reader's opinions
---