Ooni Of Ife, Oba Adeyeye Enitan, An Epitome Of Humility For Featuring In Comedy Skit With Mr. Macaroni
The Ooni Of Ife, (Kabiyesi), has once again shown unparalleled humility and support for young talent as he featured in a comedy skit of popular comedian known as Mr. Macaroni.
The Ooni Of Ife whose real name is Oba Adeyeye Enitan Ogunwusi, Ojaja II, is a Yoruba monarch and the traditional ruler of the Yoruba people of Ile-Ife. Born on 17th October, 1974, the Ooni Of Ife is one of the youngest Nigerian monarch.
He is also an accountant, having graduated from the polytechnic, Ibadan. He was coronated
 in 2015 after being chosen from a long line of well to do heirs.
Ooni Of Ife or Kabiyesi as he is called by his subjects is one of the most respected leaders in the world and indeed in Nigeria. Apart from the respect that comes with his office, the Ooni is one of the richest traditional rulers in Nigeria.
Mr Macaroni is a popular Nigerian comedian who's comedy skits are in popular demand by Nigerians and on social media. He recently released a comedy skit that featured the Ooni Of Ife, a skit which has caused a lot of reactions on social media.
In the skit, the comedian was interested I young lady who decided to take him to her father and he boasted of how hardworking he was and how he could even give the lady's father some work. To his surprise, the lady's father turned out to be the Ooni Of Ife who gave him serious work to do as he was asked to cultivate a large portion of land.
of Ife, Adeyeye Enitan Ogunwusi Ojaja II
The Ooni of Ife, Enitan Ogunwusi, has made his first appearance in a comedy skit alongside popular comedian, Debo Adedayo, popularly known as Mr Macaroni.
The two-minute clip released on Saturday has gone viral with various reactions from social media users.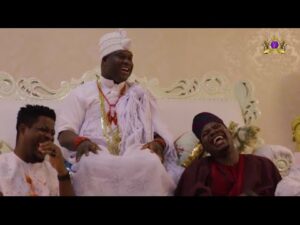 We learnt that Mr Adedayo visited the Ooni's palace in Ile-Ife earlier this week in the company of some movie stars.
It is believed that the comedian took the opportunity to feature the traditional ruler and some of the palace officers in the new skit.
In the video, Mr Ogunwusi encouraged Yorubas not to forsake the tradition of respect associated with kneeling and prostrating for elders.
"All over the world Yorubas still prostrate and kneel down," he said. "When you see your elders, you must respect them not to talk of the presence of your king."
Mr Ogunwusi, a pan-africanist, has on several occasions preached on the preservation of Yoruba cultural values and heritage.
---
Reader's opinions
---