RCCG G. O Adeboye Reveal When The World Is Likely To End.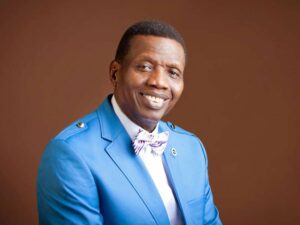 The general overseer of the Redeemed Christian church of God, Pastor Enoch adeboye has revealed when the world is likely going to end as the man of God warned his congregation to get ready for the end of the world.
According to the man of God , Pastor Enoch Adeboye, he had said that the end of the world is closer than most Christians think.
Adeboye had told his congregation this while delivering a sermon on Friday August 7th as he had warned his congregation to get ready for the end of the world, as he told Nigerians and other Christians that the world May come to an end before the Next RCCG 68th Annual convention of the RCCG church ,which holds every year, and is currently the Next big program of the RCCG church of GOD,PM news reports.
The famous and we'll known Nigerian pastor also thereafter warned Nigerians Christans that they should be careful in all their ways ,and should avoid and persist from dark activities as he warned Nigerians and Christians to avoid all sorts of evil practices.
The great man of God had also said that, since the lives of everyone in the world is in the hand of God Almighty , him alone has the final say on when a person will breathe his or her last final breath.
He had stated that ,JESUS may return before the church might hold it's next convention as he said,he doesn't know when JESUS may return to take his people to heaven,as he noted that if any body out there fails to make it to heaven it won't be because he didn't tell the whole truth,As he noted that "GOD Can be wonderfully angry", as he advised all Christians to walk in the way of the Lord and leave all their wicked and evil practices.
The man of GOD had stated "The Lord may return before we have another convention. I don't know when Jesus may return, but if any of you fails to make it to heaven, it will not be because I didn't tell you the whole truth. God can be wonderfully angry.
"Watch your steps those of you who are playing games with the all-seeing God. God is angry with the wicked every day.
---
Reader's opinions
---