Do You Want To Be A Homeowner In Nigeria?- Crown Multimedia Links Limited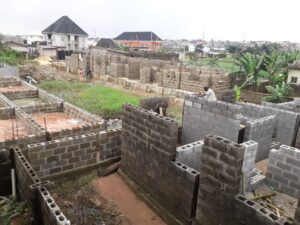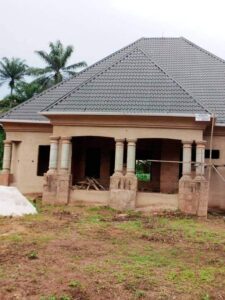 For More information Sales of land ad Building Your Homes…… Please contact Crown Multimedia Links Limited on +2348026546318.
This is another aspect of building that we know most people won't like to talk about. I want to talk about How To Calculate Materials for Plastering 2 bedroom flat
This edition is on how to calculate materials required For Plastering 2 bedroom flat is relevant to those that are currently in this stage of construction, especially those outside the country who may not be aware of current trends in these matters.
What Is Plastering (Rendering) in Buildings
Plastering is a process whereby cement usually mixed with sand and water in a defined proportion is applied to the exteriors and interiors of a masonry wall in order to achieve a smooth surface.
Plastering is common where sandcrete blocks are used to construct walls.
On this post, I'm going to teach us how to easily calculate the materials for plastering as well as how to cost the workmanship for plastering.
What Materials Do I Need For Plastering A 2 Bedroom Flat?
In case if you're wondering what materials you'll need to plaster your 2 bedroom flat, I'll list them here.
1. Cement: This is the Principal of them all as it has the binding force
2. Sand: This is the filler. It could be sharp sand or mix mud. If you have a very sharp sand, you must introduce a little mud into the system
3. Water: This marries the sand and cement to form a paste and also helps the cement to solidify after placing.
Which Part Of the Building Can I Plaster?
You have to plaster both the inner and outer walls but depends on what your pocket and account balance tells you, you may have to work on the inner walls before the outer walls.
What Is the Mix Ratio For Plastering 2 Bedroom Flat?
Crow Multimedia Links Limited is based in United Kingdom and in Nigeria and have done a severals  of work so far.
Your mix ratio depends on the kind of material you have on site.
Normally the kind of sharp sand you have will determine your mix ratio. This is because if you have a very sharp sand, then you may need some red sand to act as fillers.
Now the normal mix ratio is 1:12 (this means that for every 1 bag of cement you must add 12 head pan of sand to mix with). When you're supplied a sand that is not terribly sharp
But then when you're supplied a terribly sharp sand (usually common in Agbor, Onitsha, Aba, Ekiti) then you'll need to use 1:8:4 ( this means that for every 1 bag of cement, you'll have to add 8 head pan of sharp sand along with 4 head pan of red sand).
How Do I Pay Workers that Plaster 2 Bedroom Flat For me?
1. For 1 room, you pay from N6,000 and above.
2. For exterior walls, once the workman has plastered a length equivalent to 21 blocks, you pay him the price of 1 room (N6,000)
This is important notice
1. Price may be cheaper or higher depending on where you find yourself.
2. This N6,000 is shared between the workman and his assistant.
3. If you use the services of a different person to get water. Then you must reach am agreement with him or her to know what amount to pay for water fetched.
4. You'll be buying more bags of cement if your Parlor is terribly huge.
5. These are just for standard rooms under a standard condition.
How Many Bags Of Cement And Sand Will Plaster 2 Bedroom Flat?
For a 2 bedroom flat, you'll need 16 bags of cement along with 1 20 tonnes trip of sharp sand (you'll have a remainder. You'll need some red sand too.
How many bags of cement will plaster 1 Room (exterior and Interior)?
To plaster 1 room, you'll need 6 bags of cement since you'll need about 3 bags to plaster the internal walls.
This is a very self explained  on How To Calculate Materials for Plastering 2 bedroom flat here in Nigeria, I hope you find this helpful.
Building your new home is an exciting and at times overwhelming experience, but for your builder it is very routine, which is why you need to be an active participant in all aspects of the home building process to ensure you end up with "YOUR" dream home.
Building your new home cannot be a passive exercise, because there are so many decisions that "must be" made by you. If you are unable or unwilling to make these decisions, you will force your builder to make them and run the risk that your new home won't turn out the way you envisioned it or cost what you thought.
Here are few things you must know and take into consideration when building your new home:
Know your numbers  Before you start building your new home, run some numbers to determine whether you can afford to build the home you want. Most house plans offer a cost to build tool (usually for a nominal fee) to give you an accurate estimate of construction costs based on where you're building. The numbers include the costs of construction, tax benefits, funds for the down payment and slush account, and other related calculations.  Once you've determined you can afford to build the house you want — purchase your house plan and head to the bank to arrange for financing. Keep in mind that home construction lending is a little different than regular mortgage financing.
a. First you'll need a home construction line of credit that will be used to pay subcontractors and suppliers who perform work and provide supplies. Once your house is constructed, you will need a residential mortgage to pay off the construction line.
b. Check the reputation of your builder  Many builders are out there, but not all are created equal. Do a little research to find out which builders have the best reputation. Whether you search for information online or get recommendations from your family and friends, find out whether a builder is respected for doing quality work as well as being punctual. Our architects and designers recommend that you use only builders who are members of the National Association of Home Builders (NAHB).
c. Build with resale in mind  No matter how much you love the house that you are building, it's unlikely that it will be the last home you will ever own. Knowing that, you should be mindful of its potential resale value. Don't add so many upgrades that you overprice your home for the neighborhood. And don't choose anything too out of the ordinary. Ask yourself if the features you're considering installing are likely going to appeal to others.
d. Think Green  Make sure you do your research to maximize energy-efficiency in the design of your new home. Your architect and builder can help ensure that your windows are South-facing so you get as much sunshine as possible heating your home. You'll want to makes sure that bathrooms, laundries and garages are on the south side of your home and have small windows to minimize heat loss. Spend time choosing your insulation and HVAC systems, as well as energy-efficient appliances and WaterSense faucets and toilets.
e. Don't forget the punch  Part of the final phase of building a new home is to go over your "punch list." A punch list is a list created at the end of construction that shows what needs to still be done or what needs to be repaired on the new construction. You and your contractor will create this list the week before closing when you go through your final walk through. You should be taking notes every time you visit your construction site or do a walk through.  If you have a real estate agent, it's a good idea to have them participate in the punch list because they are not emotionally attached to your home and may have a better eye for identifying flaws.  When creating a punch list for your new home, keep in mind that problems typically fall into two categories: reasonable flaws and unreasonable flaws. Reasonable flaws are flaws that fall within the tolerances of building construction (or insignificant flaws that generally do not affect the quality of the new home). On the other hand, unreasonable flaws are flaws that have to be fixed. These problems do affect the quality of the home. Once any unreasonable flaws are corrected in your new home, this is called substantial completion, which means the new home is livable and can be occupied. Before closing on your new home, you'll have one final walk through to verify that the items on your punch list were fixed. As long as the new home has reached the point of substantial completion, you should be able to proceed with closing even if everything was not completed.
Be sure you put the money for the completion of your punch list in . This will allow you to move into your new home while still requiring the builder to complete the items on the punch list. The punch list marks an exciting time in the process of building your new home, because your home is almost done! Remember not to get so excited that that you breeze through your punch list, because you don't want regret that you didn't take the time to fix these problem
| | |
| --- | --- |
| | |
---
Reader's opinions
---