The Reason Why Obaseki Name Was Changed To Obasexy By Edo People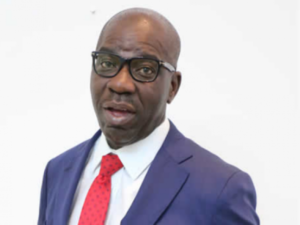 The upcoming Edo state election is perhaps the most rabble rousing off season election yet in Nigeria. There are numerous hash tags already trending such as #Edo no be Lagos; #Say No to Godfatherism, #Oshiomole Must Go, etc.
This is quite understandable, given the circumstances surrounding the September 19, 2020 scheduled election. There is a striking similarity between the situation in Edo and that in Lagos just over a year ago, in which political godfathers played a huge role in who became the governor of the state.
The stage in both cases is set by a fallout between the said godfathers, and their godsons. It is often the case that the incumbent governor vies for a second tenure under the umbrella of the political party that brought him in, and in most cases, he retains the seat. But the brawl between political father and son in Lagos, and now Edo changed this scenario drastically.
However, while Bola Tinubu of Lagos state succeeded in ousting Akinwunmi Ambode his godson without him having a second shot at the seat, Adams Oshiomole of Edo state is not having same with Godwin Obaseki who decamped to another party in order to have this most sought after second opportunity at the crown. Hence the viral #Edo is not Lagos
This singular act of intrepidity by the incumbent governor of Edo state has caught the interest of most Nigerians, and this does not exclude the ladies. Indeed, it is not often that you see women taking profound interest in political matters as much as men. But who would not be awe-struck by the happenings in Edo? To observe that Obaseki did not go the way of Ambode, much to the surprise of many is an eye catching scenario, and as the saying goes, there is nothing that turns a lady on as a man with balls. Indeed, Obaseki manned up where Ambode chickened out
In all fairness fairness to the later though, some have argued that the political climate and structure in Lagos state would not have let Ambode to succeed had he tried to do what his Edo state counterpart did. But take nothing away from Obaseki. He really fought like a man.
And now, some ladies in some quarters have taken this to another level by baptizing him with a new name 'Obaseksi' aka 'Obasexy'. Indeed the governor of Edo state is the 'new groom' whom many an Edo state lady would like to have a dinner date with. And while the battle is obviously not yet over, it is so far so good for the governor, especially given the fact that his combatant Oshiomole is down with bloodied nose, having been stripped of the party chairmanship by his party.
The upcoming election will be a tough one. Many issues would be at stake such as: has the governor performed well enough to deserve a second term? Is his closest competitor worthy enough in character and ability to take up the mantle? etc. These and many more are vital questions which Edolites will definitely have to answer in the coming days. But should Obaseki, aka Obasexy loose out, make no mistakes about it, it would still be conceded to him in many quarters that he had fought a really good fight.
| | |
| --- | --- |
| | |
---
Reader's opinions
---