When A Married Woman Engaged Too Much On Her Phone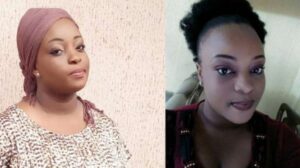 The Anambra State police command has rescued Ifeoma Blossom Obiora after she left a suicidal posts on Facebook.
 Ifeoma posts showed she was in so much pain and this got many people worried about her well-being.
A woman based NGO, who first reached out to her, said Ifeoma was married off at 15 and has been subjected to emotional and physical abuse from her husband, Onyebuchi Obiora, for many years.
Haruna Mohammed, the spokesperson of the state police command, said the police investigated and found out it was a marital issue and have since referred it to the state's Ministry of Women Affairs. It is a civil matter and we have handed it over to the Ministry of Women Affairs. It is marital problem.
The man is alleging that the woman is in the habit of using her handset constantly even at night when she is with him and that it makes him to be jealous.
He said she was always chatting, always calling and that it makes him angry and that when he talks to her about it, she starts to abuse him.
The woman also said the man was always very aggressive. We discovered that it was a marital affair so we handed them over to the Ministry of Women Affairs for counselling." Harina told our correspondents
The spokesperson said the husband was never arrested as the case is a civil matter.
The following are the comments of concerned citizen:
Obi Samuel : Some insecure men will come and tell you, "you won't understand".
Pressing phone when you're around is an indication that your presence bore her for whatever reason and she finds joy online reading funny comments.
You can't be online and not find something that will make you laugh,it's not about men.
If she's not neglecting her responsibilities, let her press her phone in peace.
My sister's husband will just laugh and say he prays the phone spoil quick but he still buys her data weekly and change her phone when necessary.
Some times he sits close and ask her what's happening online. The man is not even on social media.
Emmanuel Akinbode : Woman should try and live without their phone or else it will cause damage on their  marriages that she will forever regret.
All the woman saying is that why will the man be jealous? If you are busy with your phone other woman will proudly collect your husband,then you will know the reason why he should be careful to destroy his own home for your negligence.
Obes Joy: This is to married men, if you found your wife cheating, leave her with her responsibilities, marry another one.
If that one cheat marry another one, keep marrying until you begin to see women as last priority since they don't know what is the meaning of a man marrying a woman.
Adeoye Akinwale : On my own view there must be freedom of everything in marriage because women are not slaves when married.
My wife is also a busy wife on phone too in the name of online business but me as a wise man I married  second wife come house doing the needful for both of them.
So anything my darling wife is busy on her phone I will just leave her and go meet her junior wife case settled, that why our forefathers used to have more than one wife because one fit busy so you can go to the other one.
Thomas Williams: This is the reason why i have decided to go into contract marriage, after giving birth, i pay you off.I don't want unnecessary heartbreak…if you want to live long…. don't trust women!
Jimoh Ibrahim: For me there is no problem for my wife to use her phone but one day when she sleep off that phone must be missing.
When the phone lost let me see how she is going to use another phone because I'm the type of jealous man also when she buy another phone.
I'm going to steal it again until she stop chatting unknown guest on her phone   because I don't like cheat.
Yetunde Oluyinka : Majority of ladies are always guilty of this act! Married woman for the matter, this phone issue is a big problem to some marriages.
Women are always carried away with the internet forgetting their husband's also needs attention but above all no man has the right to take his wife life because of jealousy.There are other ways to handle issues like this, let him face the law.
Mulika Idris: Just do the same to her at times it take fire to quench fire, I can't be complaining of the same thing every time and to keep deaf ears.
You're married and you don't want to respect that fact then get ready for the worse period of your life because I will so frustrate you till you change.No one is even talking about the suicidal post Everyone is talking about the phone thing,So being on her phone made her suicidal?
Frank Obi: Believe this at your own peril. Ifeoma has been a shadow of herself since she entered that marriage because of the selfishness of those that are supposed to be called her family.
Married off at a very young age when she was supposed to be in secondary school and since then, her life has been made a living hell.
I just pray she makes it out of that marriage alive because she is gradually drifting. She needs help.
---
Reader's opinions
---