Oshiomole May Defect To Another Party If APC Sees Him Irrelevant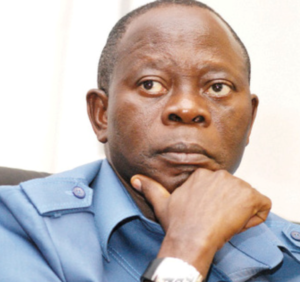 Regards to the present political issues in which Adams Oshiomhole is battling with, then one can say that, 'APC Needs Adams Oshiomhole In 2023 Election, He Should Not Be Allowed To Decamp To PDP' because it is quite known that, when politicians noticed that their level of relevancy had dropped in a certain party, most of them used to decamp to other parties that will value their presence. His removal came at his trying time with Godwin Obaseki in which both of them got themselves engaged in a real time political combat. Then Godwin Obaseki on the other hand was a one time loyalist of Adams Oshiomhole, in which his loyalty made Adams Oshiomhole to be committed to his course when he raised his ambition in the year 2016.
It is so much pathetic that Adams Oshiomhole is presently wallowing in some political dilemma which was shot to him by some of his party members, APC. However, it is no more a breaking news to most Nigerians that Adams Oshiomhole has been removed as the national chairman for APC in which his removal was duly championed by his ward chairman, who happens to be Mr Oshawo Stephen, who is the incumbent chairman for Ward 10, Etsako Local Government Area, in Edo State.
The reason for his removal is tagged with his negligence to the norms and values of his ward, which then made his ward chairman to suspend him as a party member. His suspension affected his stake at national politics, which deterred him from having relevancy as the national chairman of APC again.
Obaseki was able to enjoy the wholehearted support of Adams Oshiomhole due to his loyalty, and by virtue of the previously established capacity of Adams Oshiomhole, he was able to ensure the victory of Godwin Obaseki, but then he started derailing from the political terms and conditions of Adams Oshiomhole after his emergence as the state governor, his action made Adams Oshiomhole to be determined that, he would never open his eyes to see Godwin Obaseki return as the state governor. The first political shot that Adams effected for Godwin Obaseki was his disqualification as a contestant under APC, but then the kangaroo reason affiliated for his disqualification was the fact that he presented fake credentials to the party, APC, just as they acclaimed, but I hope you will fully agree with me that, the alleged reason for his disqualification is duly political, as it was the same APC that made Godwin Obaseki their favorite in 2016 election that is also tagging him with false credentials now. This is to tell you that Adams Oshiomhole keenly made some moves regarding his disqualification, but the reason unveiled is quite different, which will be jettisoned by every logical political expert.
The recent National Executive Meeting of APC, made it known to the public that, Mai Mala, who happens to be the incumbent governor of Yobe State had been appointed as the new acting chairman caretaker committee of APC, his appointment was a well deserved one as he was the former national secretary of APC, until he left the office so as to stay focused on his ambition as the state governor of Yobe. Meanwhile, he was victorious in the election which happened in the year 2019. But then his recent appointment as the new acting chairman caretaker committee of APC is equally well deserved, as he happens to be a man of experience in due regards to the traditions and values of the party. He was appointed alongside some other politicians from other zones, in which their appointment led to the termination of appointment of the party 'NWC', in which Adams Oshiomhole happens to fall under. This is equally to tell you that, Adams Oshiomhole had been crippled politically, and he has less influence in the political dealings of both Edo state and Nigeria at large.
If Adams Oshiomhole is unable to revive his relevancy, then it is inarguable that he might consider decamping to PDP, in which he will ensure he contributes the best of his capacity in taking power from APC in 2023. Then you will fully agree with me that he was among the stronghold of APC, who led to their victory in 2015, which brought President Muhammadu Buhari to the presidential seat, as he unseated the ruling government which was ably led by Goodluck Ebele Jonathan. Posterity shall never forget the role of Adams Oshiomhole in regards to the victory of the party, and by virtue of his capacity, joined with other relative cabals such as 'Bola Tinubu', as they were able to make perfections to their political plans, in which ever since then, APC had been the most relevant party in the country, and also the most fearful of all, due to the presence of some indomitable political structures in the party. But the bitter truth is that, if APC refuses to pledge their utmost loyalty to Adams Oshiomhole, then there are much possibilities that he might choose to decamp to PDP, and he would unveil the weaknesses of APC to them, hence he would then join in taking power from APC and give to PDP in 2023. Meanwhile, this is inarguably possible, as 'he who knows how to make something good, would also find it easy to make it bad', within a twinkle of an eye. Hence APC should duly respect Adams Oshiomhole, or else they might be the architect of their misfortune in 2023.
| | |
| --- | --- |
| | |
---
Reader's opinions
---